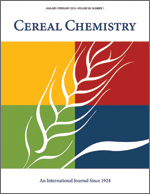 Cereal Chem 64:199-206 | VIEW ARTICLE

Identification of U.S. Rice Cultivars by High-Performance Liquid Chromatography.

G. L. Lookhart, L. D. Albers, Y. Pomeranz, and B. D. Webb. Copyright 1987 by the American Association of Cereal Chemists, Inc.

Reversed-phase high-performance liquid chromatography (HPLC) of prolamins was used to differentiate 29 rice cultivars including all major commercial long- (15), medium- (11), and short-grain (3) types produced in the United States. U.S. long-grain rice cultivars were segregated by characteristic peak patterns, positions, and intensities into one group of six and one of five cultivars plus four unique, nongrouped cultivars. Three of those long-grain types were international rices that also had unique prolamin HPLC patterns. Medium-grain cultivars were also separated into four groups consisting of two sets of three, one set of two, and three cultivars each with distinctly different prolamin patterns, whereas the HPLC patterns were unique for each of the three short-grain cultivars. Rice cultivars and genotypes separated into groups by HPLC had a common ancestor in their genetic backgrounds. However, all 29 were differentiated by their prolamin HPLC patterns and grain type.