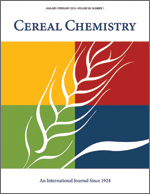 Cereal Chem 64:212-218 | VIEW ARTICLE

Thermal Coagulation of Oat Globulin.

C.-Y. Ma and V. R. Harwalkar. Copyright 1987 by the American Association of Cereal Chemists, Inc.

The thermal coagulating behavior of oat globulin was studied at low protein concentrations (less than 1%). The rate of formation of insoluble aggregates was affected by temperature, buffer salt composition, and protein-modifying reagents including dithiothreitol and sodium dodecyl sulfate, and was related to the degree of protein denaturation. Gel filtration chromatography of the soluble fraction of heated globulin revealed that a small amount of the globulin hexamer was associated into soluble aggregates, whereas the major part was dissociated into subunits. Polyacrylamide gel electrophoresis in sodium dodecyl sulfate showed no significant dissociation of oat globulin into acidic and basic polypeptides, and there was no redistribution of these two polypeptide chains in the soluble and insoluble fractions of heated globulin. N- Ethylmaleimide inhibited formation of soluble aggregates but did not prevent protein precipitation. The data revealed a significant difference in heat coagulation of oat globulin and soy glycinin, although the two proteins have similar molecular structures.