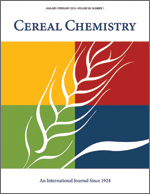 Cereal Chem 64:253-255 | VIEW ARTICLE

Saccharide Analysis of Corn Syrup Solids and Maltodextrins Using High-Performance Liquid Chromatography.

J. R. Brooks and V. K. Griffin. Copyright 1987 by the American Association of Cereal Chemists, Inc.

Water-soluble saccharides from commercial samples of corn syrup solids and maltodextrins were characterized using a combination of high-performance liquid chromatography techniques. Saccharides consisting of 1-10 degrees of polymerization were analyzed using a plastic C18 Resolve column compressed in a radial compression module. The overall molecular weight profile of each sample was evaluated by size-exclusion chromatography using a two-column system packed with silica gel (E-High angstroms and E-500). Both procedures were conducted at room temperature. These methods should prove useful for rapidly monitoring the extent of hydrolysis during processing and for predicting the physicochemical properties of the final hydrolysate.