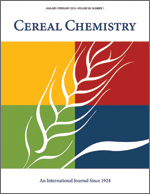 Cereal Chem 65:1-8 | VIEW ARTICLE

Effects on Polysaccharides During Baking and Storage of Bread---In Vitro and In Vivo Studies.

M. Siljestrom, I. Bjork, A.-C. Eliasson, C. Lonner, M. Nyman, and N.-G. Asp. Copyright 1988 by the American Association of Cereal Chemists, Inc.

The extent of staling of sour dough bread and conventional yeast bread was evaluated by differential scanning calorimetry during five days of storage. The bread products were made of whole grain wheat flours, one unmalted and one malted. The susceptibility of starch to alpha-amylase was determined by measuring the rate of an in vitro amylolysis at time intervals during storage. The contents of resistant starch and soluble and insoluble dietary fiber were analyzed. The bulking capacity of dietary fiber and the protein nutritional value were evaluated through balance experiments in rats. The in vitro susceptibility of starch to alpha-amylase was lower in sour dough bread than in conventional bread. Despite considerable staling, storage did not alter the amylolysis. The starch availability in sour dough bread was improved after predigestion with pepsin. The use of malted flour resulted in a lower retrogradation, in particular in conventionally fermented bread. The sour dough fermentation did not affect the dietary fiber content or the distribution of insoluble and soluble components. Furthermore, the bulking capacity and protein utilization of sour dough bread were similar to those of conventional yeast bread. It is evidently possible to reduce staling in bread by the addition of malted flour and still maintain important nutritional and quality characteristics.