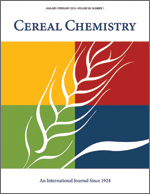 Cereal Chem 65:15-19 | VIEW ARTICLE

Decomposition of Zearalenone and Deoxynivalenol in the Process of Making Tortillas from Corn.

H. K. Abbas, C. J. Mirocha, R. Rosiles, and M. Carvajal. Copyright 1988 by the American Association of Cereal Chemists, Inc.

Tortilla dough (masa) was prepared from two samples of corn naturally contaminated with 0.23 and 4.23 ppm zearalenone, 3.28 and 12.26 ppm deoxynivalenol (DON), and 1.49 and 9.83 ppm 15-acetyl deoxynivalenol (ADON), respectively. Control corn samples were amended with 1 ppm and 5 ppm of zearalenone and 1, 5, and 10 ppm of DON. Lime water (2% Ca[OH]2) used to boil the corn contained (after boiling) trace amounts of trans-zearalenone but none of the other mycotoxins,. The process of making tortillas from either contaminated or amended corn reduced significantly the levels of zearalenone and DON and destroyed 15-acetyl-DON completely. cis-Zearalenone was detected only in tortillas made from corn heavily contaminated or amended (5 ppm) with zearalenone. The percent reduction of the three mycotoxins during the preparation of tortillas ranged from 59 to 100% for zearalenone, 72 to 82% for DON, and 100% for 15-acetyl-DON. Because corn consumed by humans in most of Mexico and Latin America is largely in the form of tortillas, these findings may have some importance to public health.