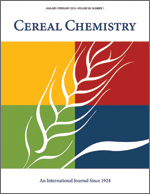 Cereal Chem 65:40-43 | VIEW ARTICLE

Varietal Differences in Quality Characteristics of Rice Layer Cakes and Fermented Cakes.

C. M. Perez and B. O. Juliano. Copyright 1988 by the American Association of Cereal Chemists, Inc.

Varieties differing in amylose content (AC) and final gelatinization temperature (GT) were used to determine the most suitable rices for layer and fermented cakes. Using the layer cake formula of Bean et al (1983), acceptable cakes were obtained with nonwaxy low-GT rice flours; increasing the amount of water in the batter based on AC improved cake height. Collapsed cakes were obtained with intermediate-high GT nonwaxy flours; slightly improved cake volume but coarser texture was obtained by reducing sucrose in the batter to ensure starch gelatinization. Fermented rice cakes (puto) without starter showed optimum texture for intermediate-AC rices measured by double-bite technique and a laboratory panel, but cake height also correlated positively with AC.