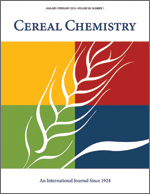 Cereal Chem 65:44-48 | VIEW ARTICLE

Effect of Soybean and Sesame Addition on the Nutritional Value of Maize and Decorticated Sorghum Tortillas Produced by Extrusion Cooking.

S. O. Serna-Saldivar, R. Canett, J. Vargas, M. Gonzalez, S. Bedolla, and C. Medina. Copyright 1988 by the American Association of Cereal Chemists, Inc.

The effects of defatted soybean meal, full-fat sesame, and a mixture of soybean and sesame on the nutritional value of tortillas of maize (75%) and decorticated sorghum (25%) produced by extrusion cooking was studied. Decorticated red sorghum in raw and tortilla form had the best protein digestibility but the worst protein quality because of its poor essential amino acid pattern. Maize plus decorticated sorghum tortillas fortified with 8% soybean or 8% soybean and 4% sesame had protein digestibility similar to unfortified tortillas but higher amounts of lysing and, therefore, better chemical score, biological value, net protein utilization, and protein efficiency ratio. Addition of sesame (8%) did not increase protein quality (P less than 0.05) or rat performance, but it did slightly increase gross energy. In vitro protein digestibility and calculated protein efficiency ratio techniques were highly correlated with in vivo data. These assays can be used to predict the nutritional value of tortilla products.