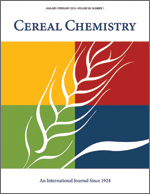 Cereal Chem 65:49-51 | VIEW ARTICLE

A Simple and Rapid Test for Drying Damage in Wheat.

C. E. Lupano and M. C. Anon. Copyright 1988 by the American Association of Cereal Chemists, Inc.

A simple test, based on the fact that the rate of CO2 production is lower in heat-damaged seeds, allowed their rapid identification. CO2 release was determined by measuring the color change of a pH indicator in the incubation medium. Highly significant correlation between this test and germination was found for the wheat variety utilized.