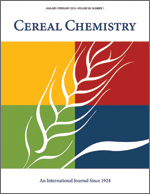 Cereal Chem 65:298-302 | VIEW ARTICLE

Water-Soluble Pentosans from Rye: II. Effects on Rate of Dialysis and on the Retention of Nutrients by the Chick.

A. I. Fengler and R. R. Marquardt. Copyright 1988 by the American Association of Cereal Chemists, Inc.

The properties of a water-soluble, pentosan-rich fraction that was isolated from rye flour were tested in vitro using a dialysis system and in vivo with chicks. The in vitro studies demonstrated that both an extract of rye and the pentosan-rich fraction impeded the rate of dialysis of three different salts and glucose, as well as glucose that was being enzymatically hydrolyzed from starch. When either the rye extract or the pentosan solution was digested prior to dialysis with a crude extract of Trichoderma viride, the viscosity was completely reduced in both fractions to that of water and the effect on the rate of dialysis of sodium chloride was eliminated. Pancreatin, in contract, had no effect on these extracts. Nutritional studies with young chicks demonstrated that nearly all of the antinutritive activity of rye, as assessed by fat retention, was associated with the pentosan-rich isolate. The results suggest that the principle antinutritive factor in rye grain is a highly viscous, water-soluble, pentosan-rich carbohydrate.