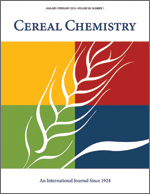 Cereal Chem 65:52-55 | VIEW ARTICLE

Analysis of Azodicarbonamide in Wheat Flour by Liquid Chromatography.

V. A. De Stefanis. Copyright 1988 by the American Association of Cereal Chemists, Inc.

A liquid chromatographic procedure was developed for the analysis of azodicarbanomide (ADA) in wheat flour. Presence of either KBrO3 or KIO3 did not interfere with the analysis. ADA was extracted with acetone from flour. An aliquot of the extract was evaporated to dryness (23-25 C). The ADA in the residue was extracted with 0.5% K2HPO4 buffer (pH 8.40) and the lipids with n-hexane, simultaneously. The ADA was analyzed by liquid chromatography, using an external flour standard known treatment. The method was developed for the quantitation of 1.0-45.0 ppm ADA in wheat flour. A detailed description of the method is given.