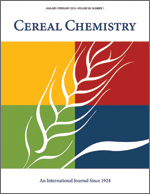 Cereal Chem 65:55-58 | VIEW ARTICLE

Electron Spin Resonance Studies of Isolated Gluten Systems.

L. E. Pearce, E. A. Davis, J. Gordon, and W. G. Miller. Copyright 1988 by the American Association of Cereal Chemists, Inc.

Electron spin resonance (ESR) was used to study paramagnetic species present in commercial gluten powder and the conformational changes of hydrated gluten after heating. Gluten powder had ESR signals attributed to transition metals and to either peroxides or chelated transition metals. The ESR signal was diminished after heating and absent after hydration of the gluten power. The paramagnetic species found in gluten powder were not affected by room temperature hexane extraction of the gluten. Spin probe studies of gluten-water-TEMPO at room temperature showed TEMPO partitioned into hydrophobic and hydrophilic environments in the protein system. The fraction of TEMPO distributed into hydrophobic regions of the protein system increased after heating to final temperatures ranging from 45 to 90 C. Hexane-extracted gluten-water-TEMPO systems at room temperature and after heating had lower fractions of TEMPO in a hydrophobic environment than the nonextracted systems.