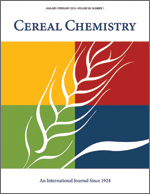 Cereal Chem 65:59-64 | VIEW ARTICLE

The Distribution of Lignin and Other Fiber Components Within Hard Red Spring Wheat Bran.

P. B. Schwarz, W. H. Kunerth, and V. L. Youngs. Copyright 1988 by the American Association of Cereal Chemists, Inc.

Three bran tissue layers were separated from the hard red spring wheat variety, Len, by mechanical treatements in water, NaOH-ethanol, and ethanol. The isolated layers corresponded to the outer pericarp, inner pericarp, and seed coat. The pericarp preparations were obtained at high purity, whereas the seed coat fraction was contaminated with the other tissues. The volume of the contaminating tissues present was determined through microscopy. Lignin and cutin, present in all three tissue isolates, occurred at higher levels in the inner pericarp and seed coat. The levels of cellulose and noncellulosic polysaccharides were similar in the inner and outer pericarp, constituting over 75% of the tissue dry weight. The seed coat exhibited a lower level of these constituents, but, in contrast, contained an elevated level of uronic acids.