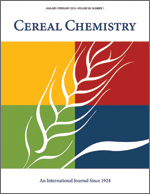 Cereal Chem 65:65-69 | VIEW ARTICLE

Low Molecular Weight Durum Wheat Glutenin Fractions Rich in Sulfhydryl Plus Disulfide Groups.

K. Kobrehel, C. Reymond, and R. Alary. Copyright 1988 by the American Association of Cereal Chemists, Inc.

Durum wheat glutenin fractions with sulfhydryl (-SH) plus disulfide (S-S) goups content of 185 and 140 micro-mol/g of protein for cultivars Mondur and Kidur, respectively, were extracted from gluten with Na- tetradecanoate (2.5 mg/g of gluten) after extraction of gliadins. Amino acid analyses confirmed the high content of cysteine in these as compared to other glutenin fractions; some intervarietal differences were also noted. Sodium dodecyl sulfate-polyacrylamide gel electrophoresis (SDS-PAGE), without reduction, showed these proteins to consist of two major low molecular weight proteins, DSG-1 and DSG-2 (durum-wheat sulfur-rich glutenin fractions) of 14.1 and 17.7 kDa, respectively. After reduction, SDS-PAGE showed DSG-1 to be composed of two subunits of lower mobility than DSG-1, having apparent molecular masses of 14.6 and 14.7 kDa. The SDS-PAGE mobility of DSG-2 increased after reduction to approximately 15.8 kDa. At pH 3.1 the electrophoretic mobility of DSG-2 was greater than that of DSG-1; both ran faster than gliadins under similar donditions.