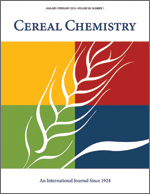 Cereal Chem 65:81-85 | VIEW ARTICLE

Some Novel Observations by Scanning Electron Microscopy on the Seed Coat and Nucellus of the Mature Wheat Grain.

A. D. Evers and M. Reed. Copyright 1988 by the American Association of Cereal Chemists, Inc.

The seed coat and nucellar epidermis of wheat caryopses were investigated by scanning electron microscopy. The generalized concept of these tissues previously available from light microscopical studies has proved inadequate to describe the considerable variation present in cell morphology and orientation. An amorphous layer, previously unreported in mature grains, was shown to exist between the nucellar epidermis and aleurone layer. The layer is absent over the embryo and thinner on the dorsal side of the grain than on the flanks of the crease. The relationship between its variation in thickness and the rate of water penetration into the grain is noted.