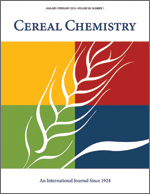 Cereal Chem 65:101-104 | VIEW ARTICLE

Linear Programming Formulation and Biological Evaluation of Chickpea-Based Infant Foods.

M. E. Valencia, R. Troncoso, and I. Higuera. Copyright 1988 by the American Association of Cereal Chemists, Inc.

The chickpea-based infant food formulations were designed using a linear programming model to minimize total cost while meeting the FAO/WHO requirements for lysine and sulfur amino acids. Each formulation was prepared by cooking and blending the ingredients into a viscous paste that was later drum-dried and analyzed for chemical composition. Biological evaluation of protein quality by means of protein efficiency ratio, net protein ratio, and apparent protein digestibility was also performed. Results showed no significant protein efficienty ratio or net protein ratio differences between the casein control and any of the experimental formulations tested. Although they were produced at minimum cost, all products complied with the infant food specifications established by the Codex Alimentarius Commission.