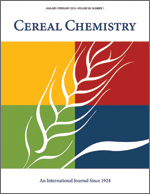 Cereal Chem 65:114-117 | VIEW ARTICLE

Phytic Acid in Faba Bean and Pea: Effect on Protein Availability.

E. Carnovale, E. Lugaro, and G. Lombardi-Boccia. Copyright 1988 by the American Association of Cereal Chemists, Inc.

Several cultivars of faba bean and pea and their protein products obtained by different methods were studied to determine the interaction of phytic acid with protein and its effect on protein availability. Data showed that binding between phytic acid and protein was not affected by physical methods of separation (dehulling, air classification); the weight ratio of phytic acid to protein remained constant (1:29) in different fractions of the same source. In vitro digestibility of faba bean and pea samples decreased in the presence of exogenous phytic acid; a reduction of 6.8, 5.7, and 8.7%, respectively (P less than 0.001) occurred in whole flour, protein concentrate, and protein isolate following the addition of 10 mg of phytic acid. A reduction in in vitro protein digestibility of five protein sources (lactalbumin, casein, serum albumin, zein, and soy protein isolate) occurred when 1, 3, 5, or 10 mg of phytic acid was added. The lowest reduction of digestibility was observed for lactalbumin (3.8%) and the highest for zein (11.1%). These data support the hypothesis that phytic acit-protein interaction affects the protein availability of legumes negatively and that the nature of the protein source plays a prominent role.