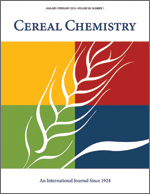 Cereal Chem 65:127-132 | VIEW ARTICLE

Dry Matter Losses in Commercial Corn Masa Production.

R. L. Pflugfelder, L. W. Rooney, and R. D. Waniska. Copyright 1988 by the American Association of Cereal Chemists, Inc.

Production of corn masa was studied in two commercial plants that manufacture tortilla chips, corn chips, and table tortillas. The magnitude and composition of corn dry matter (CDM) lost in the wastewater from each process were determined. Total losses of CDM were 8.5-12.5% for the four processes using overnight (normal) steeping. Abbreviated steeping (5 hr) at a higher temperature reduced CDM loss to 4.4%. About 50% of the wastewater solids were suspended solids that could be easity removed. The average composition of the suspended solids was 64% nonstarch polysaccharides (primarily pericarp fiber), 20% starch, and 1.4% protein. Total starch, protein, and lipid losses during processing were less than 5, 2, and 20%, respectively. Losses of starch, protein, and lipid appeared to be greater when damaged corn and softer corn hybrids were processed. Other important factors were long steeping times, shear stresses during processing, and high cooking temperatures.