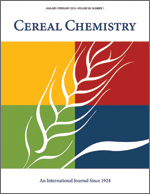 Cereal Chem 65:133-137 | VIEW ARTICLE

Alkaline Processing Properties of Stress-Cracked and Broken Corn (Zea mays L.).

D. S. Jackson, L. W. Rooney, O. R. Kunze, and R. D. Waniska. Copyright 1988 by the American Association of Cereal Chemists, Inc.

Samples of three food-grade corn hybrids (Dekalb Pfizer T1100, Pioneer 3780, and Asgrow 405W) with different levels of stress-cracked kernels were alkaline cooked using mild and harsh laboratory procedures. Stress-cracked grains, in general, did not significantly increase the levels of dry matter and chemical oxygen demand of the cook-steep water.However, stress-cracked grains can easily break when handled, and broken kernels greatly increased dry matter loss and chemical oxygen demand. The pericarp of the Asgrow 405W hybrid was easily and completely removed during processing, whereas those of Dekalb Pfizer T1100 and Pioneer 3780 were only partially removed. Samples cooked using the harsh procedure had greater dry matter losses and chemical oxygen demand than those cooked under the mild procedure. Methods of determining stress-cracked and broken kernels were compared. Percent breakage, as determined with the Wisconsin breakage tester, was significantly correlated with visual identification of multiple and total numbers of stress-cracked kernels. The Wisconsin breakage tester can be used to screen corn for potential breakage. The level of broken kernels and the ease of pericarp removal were the major factors influencing chemical oxygen demand and dry matter loss. Any protocol for assessing corn quality for alkaline cooking should include measures of broken kernels, potential for breakage, and ease of pericarp removal.