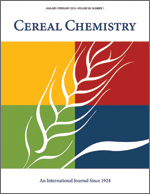 Cereal Chem 65:150-152 | VIEW ARTICLE

Note: A Labor-Saving Technique for Polyacrylamide Gel Electrophoresis of Gliadins from Large Numbers of Single Wheat Kernels.

R. L. Clements. Copyright 1988 by the American Association of Cereal Chemists, Inc.

Gel capacity was increased by use of a 40-place well-former, and labor was reduced by steeping crushed kernels in ethylene glycol and applying extracts to gels without centrifugation. About 30 min of labor was required to process 80 kernels for simultaneous polyacrylamide gel electrophoresis on two gels. Large numbers of single kernels were extracted with minimal effort, permitting rapid screening for establishing homogeneity in grain samples and for application to inheritance studies.