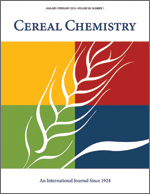 Cereal Chem 65:155-156 | VIEW ARTICLE

Note: Soluble and Total Dietary Fiber in White Bread.

G. Ranhotra and J. Gelroth. Copyright 1988 by the American Association of Cereal Chemists, Inc.

On a 38% moisture basis, white breads made with 10 different flours contained 2.5 +/- 0.3% total dietary fiber (TDF), which included 1.0 +/- 0.2% soluble fiber. Bread ingredients contributed 2.0% TDF. Thus, TDF increased by 0.5% during breadmaking. Most of this was soluble fiber, likely represented as resistant starch.