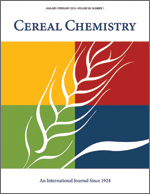 Cereal Chem 65:156-158 | VIEW ARTICLE

Note: Solubility of Flour and Gluten Protein in a Solvent of Acetic Acid, Urea, and Cetyltrimethylammonium Bromide, and Its Relationship to Dough Strength.

E. Kurowska and W. Bushuk. Copyright 1988 by the American Association of Cereal Chemists, Inc.

This note presents a simple and accurate procedure for determining protein content of AUC (0.1M acetic acid, 3M urea, and 0.01M cetyltrimethylammonium bromide) extracts and residues of flour and gluten. AUC-soluble protein was determined directly by a modified Biuret assay. AUC-insoluble protein was first dissolved in sodium laurate solution and then analyzed by the Biuret assay. For good accuracy, it was necessary to use separate calibration curves for AUC-soluble flour protein, AUC-soluble gluten protein, and AUC-insoluble flour or gluten protein. Flours (and their glutens) that yield strong dough contain a higher proportion of AUC-insoluble protein.