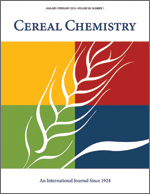 Cereal Chem 65:159-159 | VIEW ARTICLE

Note: Soluble and Insoluble Fiber in Soda Crackers.

G. Ranhotra and J. Gelroth. Copyright 1988 by the American Association of Cereal Chemists, Inc.

On a 4% moisture basis, soda crackers made with pastry flour contained 2.7 +/- 0.2% total dietary fiber (TDF), and those made with bread flour contained 3.7 +/- 0.4% TDF. About half of the TDF in crackers was soluble fiber. Although soluble fiber increased appreciably during cracker making, the increase in insoluble fiber was modest and observed only in crackers made with bread flour. Crackers made with pastry flour showed a decrease in insoluble fiber during cracker making.