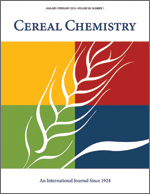 Cereal Chem 65:161-164 | VIEW ARTICLE

Stability of Lipids in Distillers' Dried Grain Products Made from Soft White Winter Wheat.

B. A. Rasco. Copyright 1988 by the American Association of Cereal Chemists, Inc.

The effect of different processing treatments on the stability of lipids in distillers' grain products made from soft white winter wheat was examined. Processing treatments included the method of drying, the level of soluble solids incorporated into the distillers' grain products, and the addition of antioxidants to the fermented mash prior to drying. Antioxidants-tertiary butylhydroquinone (TBHQ), butylated hydroxyanisole (BHA), or butylated hydroxytoluene (BHT)-did not significantly improve lipid stability in distillers' grain products. Lipid hydrolysis was greater in vacuum rotary dried distillers' dried grains than in the atmospheric drum-dried product. During an accelerated storage test, the effect on lipid stability of removing the soluble solids by filtration and washing was determined for drum-dried and lyophilized products.