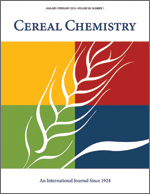 Cereal Chem 65:244-247 | VIEW ARTICLE

Chemical, Physical, and Baking Properties of Apple Fiber Compared with Wheat and Oat Bran.

H. Chen, G. L. Rubenthaler, H. K. Leung, and J. D. Baranowski. Copyright 1988 by the American Association of Cereal Chemists, Inc.

Apple fiber was characterized by chemical and physical methods and found to be a good dietary fiber source and superior water binder to wheat and oat brans. Addition of 4% hydrated apple fiber to bread reduced loaf volume by 14%. Apple fiber was added to cookie and muffin at a replacement of at least 4% without a large adverse effect on cookie and muffin quality. Key words: water-holding capacity, water activity, baking property.