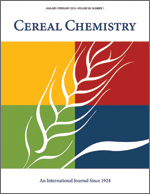 Cereal Chem 65:257-261 | VIEW ARTICLE

The Effect of Metal Ions on Bromate Oxidation During Breadmaking.

V. A. De Stefanis, P. M. Ranum, and R. W. Erickson. Copyright 1988 by the American Association of Cereal Chemists, Inc.

A colorimetric procedure was developed to identify metal ions that accelerate the action of KBrO3. Absorbances correlated well with the baking results. This study investigated whether metal ions generally encountered during breadmaking influence bromate oxidation. Vanadium, copper, iron (Fe2+), silver, and mercury exhibited a positive effect on bromate. No further research was conducted with either silver or mercury because of their adverse action on the amylases, proteins, and yeast. Bromate oxidation was accelerated in the following order; vanadium greater copper greater Fe2+. Whereas the rate of acceleration was in proportion to the concentration of either vanadyl acetate or cupric sulfate (0-50 ppm), ferrous sulfate was effective to 100-150 ppm. Above 150 ppm, loaf quality declined in relation to concentration. Iron in the ferrous state was a more effective KBrO3 accelerator than ferric iron. Subsequent research showed, unequivocally, that copper (alone) operated as an oxidant similar to KBrO3. In contrast, vanadium and ferrous ions behaved as bromate catalysts. The action of the catalytic ion was on KBrO3 and not on KBr. The catalytic property of vanadium was also tested on other oxidants, such as ascorbic acid, potassium iodate (KIO3), and azodicarbonamide. Although it had no effect on either ascorbic acid or KIO3, vanadium also catalyzed the action of azodicarbonamide.