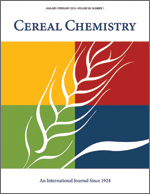 Cereal Chem 66:324-328 | VIEW ARTICLE

An Experimental Milling Technique for Various Flour Extraction Levels.

Y. Z. Li and E. S. Posner. Copyright 1989 by the American Association of Cereal Chemists, Inc.

With the objective of producing flours more representative of those milled commercially, an experimental milling technique is described to obtain 74, 76, 78, 80, and 82% flour extraction. The corresponding flow sheets presented make use of this batch type experimental milling unit. Milling results show that this technique can give high reproducibility and acceptable variance between samples. Both ash content and color grade of the straight-grade flours from hard red winter wheat showed a linear relationship with the extraction level. A methodology for evaluation of wheat milling qualities is proposed.