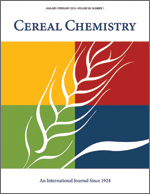 Cereal Chem 66:337-341 | VIEW ARTICLE

Distribution of Aflatoxin, Citrinin, and Invading Fungal Mycelium in Rice Kernels Inoculated with Aspergillus flavus and Penicillium citrinum.

H. Takahashi, H. Yazaki, M. Manabe, S. Matsuura, and S. Kimura. Copyright 1989 by the American Association of Cereal Chemists, Inc.

The distribution of fungal mycelium and the mycotoxins aflatoxin and citrinin in individual brown rice kernels were studied. Brown and milled rice kernels were inoculated with Aspergillus flavus and Penicillium citrinum and stored at about 85 and 90% relative humidity (rh) at 28 C. Significant amounts of aflatoxins were produced by A. flavus in the rice stored at 85% rh for 60 days; no citrinin was detected from P. citrinum after 60-90 days under the same conditions. In contrast, both fungi synthesized the mycotoxins in large quantities at 90% rh for 16-60 days. Both mycotoxins were near the invading mycelia of their fungi, which were present primarily in the germ, aleurone layer, and starchy endosperm in the highly fungus- damaged rice. The mycotoxins originally present in moldy brown rice decreased during milling but were not completely removed from highly damaged kernels.