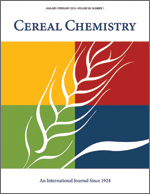 Cereal Chem 66:382-386 | VIEW ARTICLE

Japanese Noodle Qualities. I. Flour Components.

H. Toyokawa, G. L. Rubenthaler, J. R. Powers, and E. G. Schanus. Copyright 1989 by the American Association of Cereal Chemists, Inc.

Four wheat flours (a commercial Japanese noodle flour, a soft white and a club wheat from the Pacific Northwest, and an Australian standard white wheat) varying in noodle-making quality were used to investigate the role of flour components. A fractionation and reconstitution interchange of gluten, primary starch, tailing starch, and water solubles was used to investigate the role of each in udon noodle quality. The primary and tailing starch fractions were found to be most responsible for noodle texture. Of the two, the primary starch fraction contributed the most to the desirable viscoelasticity of noodle texture.