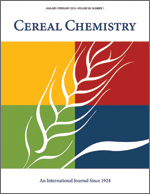 Cereal Chem 66:407-410 | VIEW ARTICLE

Milling and Baking Quality of Soft White Wheat Genotypes Subjected to Preharvest Sprouting.

M. E. Sorrells, A. H. Paterson, and P. L. Finney. Copyright 1989 by the American Association of Cereal Chemists, Inc.

Damage due to preharvest sprouting can cause major economic losses in regions where precipitation occurs frequently at harvest time. This research was conducted to evaluate the effects of preharvest sprouting on milling and baking characteristics of resistant and susceptible soft white wheat genotypes subjected to conditions inducing preharvest sprouting. Three sprinkler irrigation treatments were applied for durations of 5 hr on each of two consecutive days (5/5 hr), 10 hr on one day, or for 10 hr on each of two consecutive days (10/10 hr). Percent germination and alpha-amylase activity in the 5/5- and 10-hr treatments were not significantly different from the control. Under conditions inducing severe preharvest sprouting (10/10-hr treatment), preharvest-sprouting resistant genotypes had lower germination, lower alpha-amylase activity, higher grain yield, higher test weight, and higher alkaline water retention capacity than susceptible genotypes. Relative to the control, the 10/10-hr treatment reduced flour yield of resistant genotypes more than that of susceptible cultivars. Flour protein, sugar-snap cookie diameter, ash content, kernel hardness, and top grain were not affected by any of the treatments. The effects of preharvest sprouting on the tested soft wheat milling and baking cha racteristics were relatively minor, even with high levels of sprouting damage. Two of the resistant genotypes provided protection from preharvest sprouting damage with lower germination and lower alpha-amylase activity. The resistance to preharvest sprouting in two of these genotypes should benefit farmers by extending the duration of the wetting period before visible damage is incurred and benefit processors by reducing hydrolytic breakdown of starch.