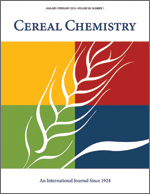 Cereal Chem 66:47-51 | VIEW ARTICLE

Protein-Lipid Interaction During Single-Screw Extrusion of Zein and Corn Oil.

M. T. Izzo and C.-T. Ho. Copyright 1989 by the American Association of Cereal Chemists, Inc.

Protein-lipid interaction in extruded model systems of zein and corn oil was investigated by analysis of lipids available to solvent extraction. Samples were extrusion cooked at barrel temperatures of 120 and 165 C with and without added corn oil. Two extraction methods were utilized: precipitation of solubilized extrudate into ethyl ether and slurrying of ground extrudates with hexane or ether. Extracts were then subjected to high-performance liquid chromatographic lipid class analysis. Both methods indicated a decrease in extractable lipid after extrusion cooking. Slurry extraction revealed triglyceride and diglyceride binding, whereas the more harsh extraction by precipitation was able to detect binding of fatty acid. Both methods showed protein-lipid interaction was not increased by elevating the temperature to 165 C, suggesting that heat favored reactions did not predominate. Noncovalent interaction appeared to cause the decrease in lipid extractability.