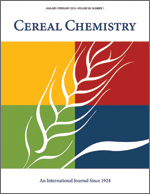 Cereal Chem 66:252-255 | VIEW ARTICLE

Availability of Dietary Fiber in Extruded Wheat Bran and Apparent Digestibility in Rats of Coexisting Nutrients.

S. Aoe, M. Nakaoka, K. Ido, Y. Tamai, F. Ohta, and Y. Ayano. Copyright 1989 by the American Association of Cereal Chemists, Inc.

Effects of extrusion cooking on availability of dietary fiber in wheat bran and the apparent digestibility in rats of coexisting nutrients (starch, protein, and fat) were studied. The content of soluble fiber was 3.3% in raw wheat bran, which increased in relation to the degree of extrusion to 4.2% aft er moderate extrusion and 5.1% after excessive extrusion. Scanning electron microscopic observations showed that the cell walls of extruded products were thinner and their surfaces rougher than those of the raw material. Apparent digestibility of starch, protein, and fat was not influenced by extrusion cooking, whereas that of the wheat bran dietary fiber was increased significantly in rats (P less than 0.05). Even in the group fed a diet containing raw wheat bran, the honeycomb-like structure of fecal dietary fiber was disordered after passage through the rat alimentary tract. Dietary fiber in the rats fed the extruded products was also greatly disrupted; cell walls and inner surfaces were wrinkled, and the remaining pericarp layers were often greatly folded or curled. The present study suggests that extrusion cooking of wheat bran is effective in modifying its physicochemical form and the availability of dietary fiber in rats.