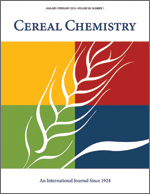 Cereal Chem 66:270-273 | VIEW ARTICLE

Carotenoids and Retinoids in Finnish Foods: Cereal and Bakery Products.

M. Heinonen, V. Ollilainen, E. Linkola, P. Varo, and P. Koivistoinen. Copyright 1989 by the American Association of Cereal Chemists, Inc.

The carotenoid and retinoid composition of 22 cereal and bakery products was analyzed using a high- performance liquid chromatographic method. There was little, if any, vitamin A activity in the cereal products. Retinoids (originating from added ingredients) were present only in bakery products. The amount of beta-carotene varied from less than 1.0 to 170 micrograms/100 g of fresh product. The predominating carotenoid in flours and some other milling products was lutein (and zeaxanthin), a vitamin A inactive xanthopyll; its concentration in corn products was 3 mg/100 g. The corn products and wheat germ also contained zeaxanthin, but this carotenoid could not be quantified separately from lutein. Only traces of alpha-carotene and cryptoxanthin were found in cereal products. The amount of vitamin A in bakery products was dependent on their ingredients. Both all-trans- and 13-cis-retinol were present in most bakery products. The vitamin A content, expressed as retinol equivalents of bakery products, was below 69 micrograms/100 g.