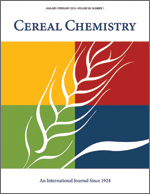 Cereal Chem 66:276-282 | VIEW ARTICLE

Noodles VIII. The Effect of Wheat Flour Lipids, Gluten, and Several Starches and Surfactants on the Quality of Oriental Dry Noodles.

K. L. Rho, O. K. Chung, and P. A. Seib. Copyright 1989 by the American Association of Cereal Chemists, Inc.

Removal of free lipids from hard wheat and soft wheat flours increased the whiteness and strength of the dry noodles; it increased cutting stress but decreased surface firmness of cooked noodles. In fractionation and reconstitution studies, nonpolar lipids effectively restored surface firmness of cooked noodles, whereas nonpolar lipids and glycolipids reduced breaking stress of dry noodles. Gluten from the hard wheat flour gave stronger noodles in dry and cooked form than did the soft wheat gluten, but both glutens were equally detrimental to surface firmness at levels above 7% in the flour. Addition of 10% modified wheat starch or waxy maize starch to the hard wheat flour increased the cutting stress and surface firmness of cooked noodles. At 0.5% level, lecithin increased the strength of the noodles, whereas sodium stearoyl-2-lactylate and monoglycerides improved surface firmness of cooked noodles.