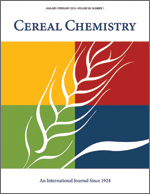 Cereal Chem 66:300-304 | VIEW ARTICLE

Analysis of Volatile Compounds for Detection of Molds in Stored Cereals.

T. Borjesson, U. Stollman, P. Adamek, and A. Kaspersson. Copyright 1989 by the American Association of Cereal Chemists, Inc.

Volatile fungal metabolites were collected and identified during fungal growth on wheat. This method allows early detection of fungal growth, and representative samples from a large batch of cereals can be taken. The fungi Aspergillus amstelodami, Aspergillus flavus, Penicillium cyclopium, and Fusarium culmorum were cultivated on moist wheat (25% mc) in cultivation containers provided with an air inlet and outlet. Volatiles in the headspace gas of the containers were collected on a polymer adsorbent by purging an airstream through the container and were separated and identified by combined gas chromatography and mass spectrometry. The volatile metabolites produced in the greatest quantities were 2-methylfuran, 2- methyl-1-propanol, and 3-methyl-1-butanol. When production of volatiles during different fungal growth phases was investigated, it was found that some compounds were mainly produced during the early stages. The metabolic activity of the fungi was studied by measuring CO2 content in the cultivation containers. Two days after inoculation of fungi, before growth was visually detectable, a rise in the concentration of CO2 and other volatiles was readily measurable. The production of terpenes varied greatly between the examined species, and these compounds could possibly be used for the recognition of species.