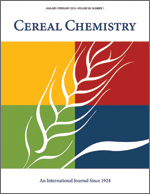 Cereal Chem 67:413-417 | VIEW ARTICLE

Alkylresorcinols in U.S. and Canadian Wheats and Flours.

P. Hengtrakul, K. Lorenz, and M. Mathias. Copyright 1990 by the American Association of Cereal Chemists, Inc.

Wheat samples from the United States and Canada and flours from those wheats were analyzed for alkylresorcinols. Alkylresorcinols in wheats ranged from 317.5 to 655.0 micrograms/g dry weight. Flours contained very small amounts of alkylresorcinols and the values ranged from 0.025 to 14.45 micrograms/g dry weight. Generally, hard wheats had higher protein and lower alkylresorcinols; soft wheat had lower protein and higher alkylresorcinols. Linear regression analysis between protein and alkylresorcinol content indicated that they are negatively correlated. Wheat type had no effect on flour alkylresorcinol content. Patent percentage of flours was shown to be positively correlated with the amount of alkylresorcinols. Both kernel maturity and cereal types influenced the amount of alkylresorcinols. As maturity increased, alkylresorcinol content decreased.