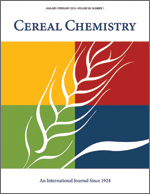 Cereal Chem 67:443-447 | VIEW ARTICLE

Description and Application of an Experimental Heat Sink Oven Equipped with a Loaf Height Tracker for the Measurement of Dough Expansion During Baking.

R. H. Kilborn, K. R. Preston, and H. Kubota. Copyright 1990 by the American Association of Cereal Chemists, Inc.

An experimental heat sink oven equipped with a loaf height tracker was developed for the measurement of dough expansion during baking. The loaf height tracker consists of a Teflon pad attached to a movable stainless steel rod that passes through the heat sink and outer oven walls. The movement of the pad and rod in response to changes in loaf height during baking are measured electronically. The oven design gave excellent temperature control during the baking of remix-processed bread. This resulted in very good reproducibility of oven rise properties, including maximum loaf height and time to maximum loaf height. The effects of ascorbic acid and sodium stearoyl-2-lactylate (SSL) upon the properties of Brazilian- processed bread were also studied. The reduction in bread quality due to omission of SSL from the formula is attributed to the reduction in oven spring. The very large negative effects upon bread properties due to omission of ascorbic acid from the formula could be attributed to reduction of proofing height and lack of oven spring.