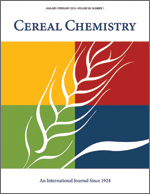 Cereal Chem 67:515-518 | VIEW ARTICLE

Changes in Selected Nutrient Contents and in Protein Quality of Common and Quality-Protein Maize During Rural Tortilla Preparation.

R. Bressani, V. Benavides, E. Acevedo, and M. A. Ortiz. Copyright 1990 by the American Association of Cereal Chemists, Inc.

A total of eleven common maize cultivars and one variety of quality-protein maize (QPM) called "Nutricta" were processed into cooked maize and tortillas by the method used in rural areas. Samples of raw and cooked maize and their respective tortillas were analyzed for major nutrient components, as well as for total dietary fiber, calcium, magnesium, sodium, and potassium. Four of the common maize samples, the QPM, and their processing products were analyzed for fatty acid content, and were also evaluated for protein quality. For both common maize and QPM the results showed increases in Ca and Mg from raw maize to tortilla and a small decreases in Na and K. Total dietary fiber decreased from raw maize to masa, and then it increased in tortillas. Fatty acid composition was similar among the maize samples and distribution was not affected by the lime cooking process. Protein quality was significantly higher (P less than 0.03) in tortillas than in raw maize. In this respect QPM as a raw grain and as tortillas was statistically significantly superior to common maize.