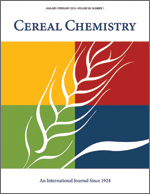 Cereal Chem 67:533-537 | VIEW ARTICLE

Nutritional Improvement of Tannin-Containing Sorghums (Sorghum bicolor) by Sodium Bicarbonate.

D. B. C. Banda-Nyirenda and P. Vohra. Copyright 1990 by the American Association of Cereal Chemists, Inc.

Broiler chicks were fed isonitrogenous diets containing either maize (corn) as a cereal constituent or different cultivars of tannin-containing sorghum (about 1% tannin measured as catechin equivalent). Compared with the diet containing maize, diets based on tannin-containing sorghum cultivars (Northrup King NK 300, Savanna 5-91906, Savanna X3174-63836, or BRY 936) significantly (P less than 0.01) depressed growth of chickens. Growth depression was overcome and feed-gain ratio improved if the diet containing cultivar NK 300 was supplemented with 0.5% NaHCO3 and those containing cultivars Savanna 5-91906, Savanna X3174-63836, or BRY 939 were supplemented with 0.25% NaHCO3. Levels of 0.5 or 0.75% NaHCO3 were inferior to the 0.25% level for improving growth of chickens for the latter three cultivars. Apparent nitrogen retention also increased with 0.25% NaHCO3. Apparent metabolizable energy data were less consistent; nitrogen retention increased with ensilaging of sorghums but not body weight. NaHCO3 supplementation is a practical and economic method for overcoming the nutritional effects of tannis in sorghum cultivars.