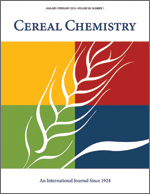 Cereal Chem 67:538-541 | VIEW ARTICLE

Nutritional Properties of Coarse and Fine Sugar Beet Fiber and Hard Red Wheat Bran. I. Effects on Rat Serum and Liver Cholesterol and Triglycerides and on Fecal Characteristics.

C. F. Klopfenstein. Copyright 1990 by the American Association of Cereal Chemists, Inc.

The object of the experiment was to determine the effects of coarse and fine sugar beet fiber and coarse wheat bran compared with cellulose on rat weight gains, serum and liver lipids, and fecal weight and water- holding capacity. No significant differences were found in overall weight gains or feed efficiencies with diets containing the various fibers at the 5% level of supplementation. By the end of the sixth week, total serum cholesterol levels were lower in animals fed beet fiber diets than in those fed the cellulose diet, and the lowering effect was not at the expense of high-density lipoprotein cholesterol. No dose-response effect of beet fiber was noted, however. Animals fed the 5% wheat bran diet had cholesterol levels intermediate between those of animals fed cellulose and beet fiber. In general, our results coroborate those of other investigators, who have found little or no hypocholesterolemic effect of dietary wheat fiber. Increasing levels of beet fiber also resulted in reduced liver cholesterol pools. At the end of week 6, serum triglyceride concentrations did not differ significantly among groups, but rats fed sugar beet fiber had lower liver triglyceride concentrations (which appeared to be concentration related) than those fed cellulose or wheat bran. Coarse beet fiber appeared to have a greater effect than fine beet fiber. No differences were found in fecal water-holding capacity among rats fed wheat bran and coarse and fine beet fiber at the 5% level of supplementation, but feces of rats fed 5% cellulose had a significantly lower water-holding capacity. Beet fiber particle size appeared to have no effect on wet or dry feces weight or water-holding capacity. In general, these results show that sugar beet fiber has potential as a dietary aid in the treatment of hypercholesterolemia and constipation.