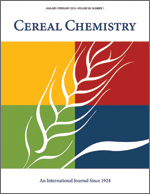 Cereal Chem 67:545-547 | VIEW ARTICLE

Effects of Wheat Bran and Polydextrose on the Sensory Characteristics of Biscuits.

P. Stanyon and C. Costello. Copyright 1990 by the American Association of Cereal Chemists, Inc.

Rolled biscuits were prepared with wheat bran replacing 0, 14, 28, and 42% of the flour and with polydextrose replacing 0, 20, 40, and 60% of the hydrogenated shortening in the formula. In all, 16 different combinations were evaluated. Response surface methodology was used to illustrate sensory characteristics of the biscuits. Panelists rated biscuits more crumbly, drier, and chewier as bran level increased. Aftertaste and wheat flavor were greater in biscuits that contained wheat bran. Panelists scored biscuits made with polydextrose as more moist but no more chewy or cohesive than biscuits made without polydextrose. Polydextrose appeared to overcome some of the effects of wheat bran in biscuits.