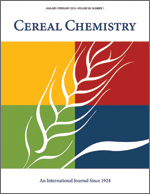 Cereal Chem 67:585-588 | VIEW ARTICLE

Evaluation of Corn Distillers' Dried Grains Defatted with Supercritical Carbon Dioxide.

Y. V. Wu, J. P. Friedrich, and K. Warner. Copyright 1990 by the American Association of Cereal Chemists, Inc.

Corn distillers' grains (CDG) were extracted with supercritical carbon dioxide (SC-CO2) and with SC-CO2 plus water and/or ethanol, at pressures of 63,600, 68,000, and 81,600 kPa (9,350, 10,000, and 12,000 psi) and at temperatures around 84 and 102 C. The CDG extracted with SC-CO2 had lower fat and higher neutral detergent fiber contents than untreated CDG. Defatted CDG had acceptable flavor scores. CDG treated with SC-CO2 may thus have potential as a food ingredient with high protein and dietary fiber contents.