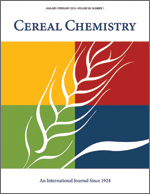 Cereal Chem 67:603-605 | VIEW ARTICLE

Note: Changes in Bread Firmness and Moisture During Long-Term Storage.

H. He and R. C. Hoseney. Copyright 1990 by the American Association of Cereal Chemists, Inc.

In contrast to most studies on bread staling that deal with storage for one week, this study investigated changes in firmness and moisture of bread during one year of storage at 25 C. Two packaging methods to prevent bread from molding were tested. Bread packaged in a sterilized bag while still hot (3 min after baking) or packaged after being sprayed with 0.2% calcium propionate 10 min after baking did not develop any mold over the storage period. Both crumb firmness and crumb moisture reached equilibria after 30 days of storage. A sharp increase in firmness and a decrease in moisture were found during the first 15 days. To study the effect of moisture on crumb firmness, high-moisture bread was obtained by reducing baking time from 24 to 8 min. Higher moisture of crumb resulted in a slower firming rate and lower equilibrium firmness. Separation of crumb from crust of fully baked bread 1 hr after baking maintained the crumb moisture during storage but did not prevent firming of crumb; however, the equilibrium firmness was much lower. Therefore, moisture plays an important role in crumb firming, but other factors cause crumb firming even without a change in moisture.