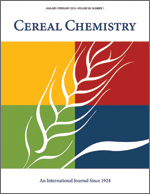 Cereal Chem 67:334-337 | VIEW ARTICLE

Effects of Selenium Fertilization on the Selenium Content of Cereal Grains, Flour, and Bread Produced in Finland.

M. Eurola, P. Ekholm, M. Ylinen, P. Koivistoinen, and P. Varo. Copyright 1990 by the American Association of Cereal Chemists, Inc.

In order to raise the selenium (Se) content of agricultural products in Finland, the main multinutrient fertilizers have been supplemented with sodium selenate since the fall of 1984. This intervention has affected most locally produced agricultural products. The Se contents of grain (spring and winter wheat and rye), flour, and bread have been monitored regularly using electrothermal atomic absorption spectrophotometry every other month since 1983. The supplemented fertilization has distinctly raised the Se contents of cereals and cereal products, spring wheat showing the greatest increase (20-30-fold). The mean Se values (mg/kg dry matter) in 1986-1988 were: spring wheat 0.25, winter wheat 0.05, rye 0.04, wheat flour 0.17, rye flour 0.07, wheat bread 0.18, rye bread 0.04, and rolled oats 0.19. Before 1985 the level of Se in all domestic cereal grains was 0.01 mg or less per kilogram. The Se content of flours is also affected by the proportion of imported to domestic grain in milling. In the 1980s, the amount of imported grain has varied from 0 to 65%. Much of the grain has been imported from North America, where grain usually has a high Se content; the range in the present study was 0.03-1.50 mg/kg dry matter. At present, American grain raises the Se content of Finnish cereal products, whereas other imported grain reduces it. The average Se intake in Finland is now about 0.11 mg/day per capita at the energy level of 10 MJ (2,400 kcal), with cereals contributing about 18% of the total intake.