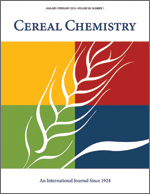 Cereal Chem 67:366-372 | VIEW ARTICLE

Adsorption of Wheat Proteins on Wheat Starch Granules.

A.-C. Eliasson and E. Tjerneld. Copyright 1990 by the American Association of Cereal Chemists, Inc.

In order to study interactions between wheat starch and wheat protein, the adsorption of wheat proteins on wheat starch was measured. Starch was mixed with protein solutions differing in concentration, and protein content was determined before adding the starch and after centrifugation and removal of supernatant. Any decrease in protein content was calculated as the amount of protein adsorbed on the starch granules. The adsorption was found to be low for bovine serum albumin and for a wheat protein fraction composed for low molecular weight proteins. For a wheat protein fraction composed of high molecular weight proteins the amount of adsorbed protein was much higher (around 10 mg protein/m2 starch). The amount of protein adsorbed increased with pH in the interval 3.1-7.6. It was also affected by the concentration of NaCl, and was found to be highest in 0.0025M NaCl. The amount of protein adsorbed increased when starch granules had been heated before adsorption but was not affected by heating the protein solutions. Wheat proteins were adsorbed to a much greater extent on potato starch than on wheat or maize starches.