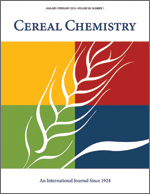 Cereal Chem 67:372-376 | VIEW ARTICLE

Effect of Environment on Wheat Storage Proteins as Determined by Quantitative Reversed- Phase High-Performance Liquid Chromatography.

B. A. Marchylo, J. E. Kruger, and D. W. Hatcher. Copyright 1990 by the American Association of Cereal Chemists, Inc.

Reversed-phase high-performance liquid chromatography (RP-HPLC) was used to quantify variations in extracted wheat proteins (gliadins and glutenins) resulting from Canadian prairie environmental influence. The wheat cultivars Neepawa and HY 320 were studied and, qualitatively, environment did not influence protein chromatograms (gliadins and glutenins). Quantitatively, small but statistically significant influences were observed. These influences could contribute errors in automated varietal identification procedures that would affect the estimation of proportions of varieties present in small amounts. This, in turn, could affect grade assignment. Quantitative analysis of sequentially extracted gliadins and glutenins (including high molecular weight glutenin subunits) indicated that the relative proportions of extracted proteins could be influenced by environment. This could affect RP-HPLC wheat quality prediction.