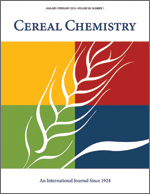 Cereal Chem 68:1-6 | VIEW ARTICLE

A Comparative Analysis of the Sulfur-rich Proteins of Durum and Bread Wheats---Their Possible Functional Properties.

K. Kobrehel, J. Bois, and Y. Falmet. Copyright 1991 by the American Association of Cereal Chemists, Inc.

Comparison of the solubility and the electrophoretic characteristics of sulfur-rich (chloroform/methanol- soluble) proteins of durum and bread wheats showed considerable differences. Most of these proteins were readily extracted from bread wheat with the albumin-globulin fraction, whereas only some of them were extracted from durum wheat under similar conditions. The remaining sulfur-rich protein fraction of durum wheat could be separated from the other glutenin components with Na-tetradecanoate. In bread wheat, some of the sulfur-rich proteins became bound to other gluten components during dough formation, probably through hydrophobic interactions. They were extracted from gluten partly with the gliadin and partly with the glutenin fraction. Results suggested that these proteins, as part of the gluten network, may have a functional role in the formation of dough.