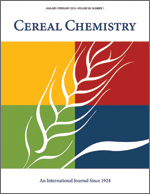 Cereal Chem 68:12-17 | VIEW ARTICLE

Steeping Maize in the Presence of Multiple Enzymes. II. Continuous Countercurrent Steeping.

J. D. Steinke, L. A. Johnson, and C. Wang. Copyright 1991 by the American Association of Cereal Chemists, Inc.

A laboratory procedure for steeping maize, which closely simulates commercial practice in wet milling, was developed and used to determine the effects of multiple-enzyme treatment on wet-milling performance. Yellow dent maize was continuously and countercurrently steeped for 24 hr in a solution containing 1.25% of a multiple-enzyme preparation and 0.20% sulfur dioxide and then wet milled. Yields and protein contents of wet-milling fractions were compared with those of maize steeped for 48 and 24 hr in 0.20% sulfur dioxide alone. Reducing the steeping time without adding enzymes reduced starch yield and increased the protein content of the starch. Maize steeped with multiple enzymes and sulfur dioxide for 24 hr gave nearly the same yields and purities of fractions as maize steeped for 48 hr in sulfur dioxide alone. Thermal properties, pasting properties, and colors of the starch were unaffected by steeping in multiple enzymes and sulfur dioxide.