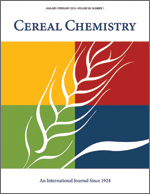 Cereal Chem 68:21-24 | VIEW ARTICLE

Changes in Endogenous and Exogenous Iron-Reducing Capability of Soybean Hull During Development.

J. A. Laszlo. Copyright 1991 by the American Association of Cereal Chemists, Inc.

Hulls (seed coats) of soybean (Glycine max) seeds contain relatively high levels of bioavailable iron. The presence of some iron in the Fe(II) oxidation state may be a contributing factor to its availability. Apparent Fe(II) and Fe(III) content of hulls of several soybean cultivars was followed throughout development. Iron was extracted from hulls with 2N HCl. Fe(II) and Fe(III) content of extracts was measured with bathophenanthrolinedisulfonic acid or by ion chromatography. Extracts of immature Century and Williams 82 hulls had higher levels of Fe(II) than fully mature hulls. Iron was all Fe(II) in extracts of Sooty, Wilson, and Peking hulls from late growth stages (late linear seed fill to harvest maturity). Conclusive assessment of the in situ hull iron oxidation state was not possible because extracts of all cultivars and stages contained reductants that were endogenous to the tissue or were generated during extraction. These reductants may influence bioavailability to a greater extent than hull iron valence.