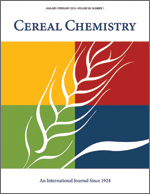 Cereal Chem 68:39-42 | VIEW ARTICLE

Steamed Bread. II. Role of Protein Content and Strength.

K. Addo, Y. Pomeranz, M. L. Huang, G. L. Rubenthaler, and H. C. Jeffers. Copyright 1991 by the American Association of Cereal Chemists, Inc.

Twenty-nine hard wheat flours ranging in protein content from 9.3 to 14.4% and in specific pan bread volume (cm3/1% protein) from 9.8 to 54.1 cm3 and 34 soft wheat flours with protein content from 6.7 to 15.5% and specific pan bread volume from 14.9 to 74.1 cm3 were compared in making pan bread and steamed bread under optimized conditions. Included in the evaluation were water absorption, mixing time, four alveograph parameters, and bread scores. Protein content was important in production of acceptable steamed bread (especially from low-protein soft wheat flours). High flour strength (as determined by physical dough tests) was desirable in production of pan bread (especially from high-protein hard wheat flours) and detrimental in production of steamed bread. A model using alveograph parameters and protein predicted 82.1% of the variability in pan bread volume potential of bread baked from hard wheat flours. Only 44.0% of the variability in steamed bread volume potential could be predicted from the protein content of soft wheat flours.