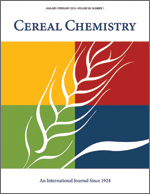 Cereal Chem 68:43-47 | VIEW ARTICLE

Functionality of Date Paste in Breadmaking.

A. K. Yousif, I. D. Morton, and A. I. Mustafa. Copyright 1991 by the American Association of Cereal Chemists, Inc.

Partial replacement of wheat flour with date paste (4-8%) modified bread dough as indicated by farinograph and alveograph studies. Addition of date paste decreased the malt index and delayed gelatinization. Total gas production and retention were improved by 4-6% addition compared with the sugar-free control. A higher concentration (12%) of date paste resulted in a negative effect on the gassing and handling properties of the bread dough. A good quality bread with improved external and internal characteristics could be produced by a partial replacement of the wheat flour with 4% date paste. Increasing the date paste replacement level had an adverse effect on the crust and crumb color of the bread produced, as shown by the scores for the bread supplemented with 8 and 12% date paste. Addition of 4-8% date paste as a wheat flour replacement to the bread formula significantly retarded firming of the bread crumb after two days' storage. Date paste also prolonged the shelf life of breads.